News Archive
News Archiv
:
2006
|
2007
|
2008
|
2009
|
2010
|
2011
|
2012
|
2013
|
2014
|
2015
On to the finals...
And here I am again to bring you tidings of the struggle of the three tribes: the widelands tournament went on and brought very good games. Let's dive into it!
Winner's Bracket
Game 7 - Winner's final - ivh (Atlanteans) VS SirVer (Empire)
The winners bracket final was played between ivh and myself. And, what can I say? Ivh ran over me, it was not even close. He got his military up and running in no time and outproduced me in the level 0 soldiers. So he sent me to the loser's bracket to meet up with the winner of game 13 while he just ran through the winner bracket and is the first participant in the grand final. Congratulations ivh!
Loser's Bracket
Game 11 - Fopper (Barbarians) VS Nasenbaer (Atlanteans)
Nasenbaer starts of by building up his economy while Fopper does a fast battle arena and metal workshop. As soon as they meet, Fopper has already some soldiers trained in evade and some axes stockpiled for fast reenforcement while Nasenbaer just got his soldier production up. Fopper wins the ensuring battle and takes this game.
Nasenbaer is therefore the first developer to drop out of the tournament while Fopper advances to game 13.
Game 12 - McMad2nd (Atlanteans) VS Tmk (Atlanteans)
This game did not take place, as Tmk could not make it due to constraints outside his control. He was quite sad -- as was I, because he is a good player -- but he will be around on the WiHackTwentyTenReloaded and I bet that he will join the next tournament again!
However, for now, McMad2nd gets a bye and advances to the game 13 while Tmk is out of the tournament.
Game 13 - Fopper (Barbarians) VS McMad2nd (Atlanteans)
Fopper opened up with his signature strategy: fast Battle Arena into mass soldier production. McMad2nd started out by building up his economy but maneuvered himself into a deadlock: he forgot to build a sawmill and when he realized this and made a construction site for it, all his builders were already busy on other sites that would not progress because planks were missing. It took him a while to realize this and when he did, the menace was already at his doorstep: Fopper ran over the Atlantean tribe with a dominating military force.
McMad2nd is therefore out of the tournament and Fopper plays in the loser's final (game 14) against me. Who will take third place? Who will play in the grand final? Read on!
Game 14 Loser's final - SirVer (Empire) vs Fopper (Barbarians)
I was very afraid of this game, because I was sure that I could not beat a barbarian on a small map. I optimized my build for very fast soldier production but didn't dare hoping for success -- the barbarians are much faster than the empire in producing soldiers. At the beginning, it seemed as if Fopper would indeed just run me over but he had issues of his very own: Too slow an axe production and one or two military buildings missing on his frontier allowed me to run over his frontier with my last all-in attack: his defenses broke and after taking two military buildings in a rush I was able to burn down his HQ even though he still had the stronger standing forces in his kingdom. But without warehouse, no economy.
At one point, I was already on the point of giving up but pure sheer luck carried me through in the end. I move on to the finals while Fopper is out; I am very sure that he will be back with a vengeance in the next tournament.
Grand final - ivh vs SirVer
So I get the chance to play ivh again, he beat me in Game 7, but I am back from the loser's bracket to challenge him again. The finals will be played on the map The pass through the mountains: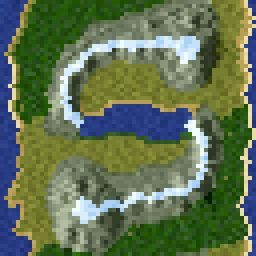 The grand final will be played on Saturday evening while I am on the WiHackTwentyTenReloaded, so we will have some live and some online spectators. This is a really exiting outlook ;).
So, good luck ivh. I am looking forward to playing you again in the grand final of the first widelands tournament ever. One of us will carry the precious T-Shirt home after this ;).
What else?
As always, you can find the current standings on the bracket: Just click here. As before, you can find all replays and updates on the WLTournamentTwentyTen site.
---
3 comments
Posted by SirVer on 2010-10-27, 13:19
Round 2 is over
The second round of the tournament is over and here I am to bring you the traditional writeup. We had the following games:
Winner's Bracket
Game 5 - Nasenbaer (Atlanteans) vs ivh (Atlanteans)
This fight was won by ivh who knew the map better and obviously trained quite a bit before the game. Nasenbaer lost and was sent to the losers bracket.
Game 6 - Tmk (Atlanteans) vs SirVer (Empire)
This was such a close game. Tmk massed a lot of young soldiers out of his weapon and armor smithy while I went the training route. As we met, I had too little soldiers to man my buildings at the front while he swarmed me with his. Through burning buildings before he could take them and moving stronger soldiers to the front I was able to gain ground inch by inch. It was not clear who would get the stronger hand for a long time, but I managed to defeat Tmk in the end. What a nail biter, the replay is a must see!
Loser's Bracket
Game 9 - _aD (Empire) vs Fopper (Barbarians)
This was the first game that was played with build 15 in this tournament which means that the replay is easily accessible to everyone interested! The players only sent the second part of it in though, so the beginning of the game is missing.
Fopper was short on wood, but built a trainings camp early and trained his starting soldiers to a fearsome level. _aD managed to bring up a good working economy: no marble or wood problems. But he neglected the training and military production aspect and was not able to produce soldiers quickly enough. When the two met, _aD was the first to attack; this aggression let to a stalemate between the two players at their front, but in the end Fopper was able to solve his coal problem faster than _aD his beer problem and Fopper could take the game. _aD - one of my fellow Empire players - drops out of the Tournament and Fopper advances to play in game 11 next.
Game 10 - Gannaf (Empire) vs McMad2nd (Atlanteans)
This game was played yesterday under a lot of technical difficulties. But with a lot of tweaking and much flexibility by the two players, it took place. There was at least one desync, but both players agreed at the end that McMad2nd won. My dearest brother therefore still has the chance to go on to the finals while Gannaf is the second Empire player to drop out of the tournament. We haven't got the replays yet, therefore I cannot comment on the game itself.
Next round
ivh and I can relax for a little bit in the winner bracket. But we will face each other in the next game and I will have to show my best against the third atlantean in three games. Whoever wins this game will play in the final of the tournament.
The players from the losers bracket are first to play though. We will have Game 11 between Fopper (Barbarians) and Nasenbaer (Atlanteans) and Game 12 between McMad2nd (Atlanteans) and Tmk (Atlanteans).
The map played for all games is Crater: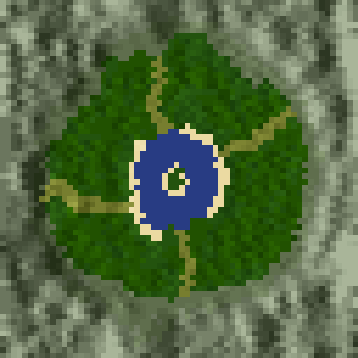 Good luck and have fun all players in the tournament!
What else?
As always, you can find the current standings on the bracket: Just click here. As before, you can find all replays and updates on the WLTournamentTwentyTen site.
The tournament was already a big success for widelands: we found a ton of bugs - some of them only affecting windows - and fixed them. The beta testing character is therefore turning out well. Also some of the games have been extremely close and shown that widelands can be quite entertaining and exciting to watch.
Kristin also finished the design for the winners shirt and it's a one-of-a-kind: absolutely priceless to have!
---
2 comments
Posted by SirVer on 2010-10-10, 22:58
Tournament Standings
The first round of the first Widelands tournament is over and everything went more or less smoothly: there was one desync in my own game and various smaller problems setting up the network configurations of all players. If you have the same problems, there is an article on our Wiki that might help: InternetGaming. But all games were played on time.
The winners of the first round are Nasenbaer, ivh, Tmk and myself while _ad, Fopper, Gannaf and McMad2nd were sent to the loser's bracket for their second chance to still reach the finals. Here are the brackets for the current standings.
Some of the games were closer then others, but all are fun to watch. So check out the correct Widelands version, grab the replays and enjoy some good games of Widelands.
The second round of the tournaments is running till the 9th October. The map played is Checkmate: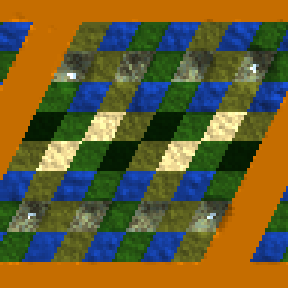 After round two, some players will have been eliminated for good and others are one step closer to the finals. Who will be the champion?
On a site note; I've added some small features to the Homepage: there is now an important dates box and the news RSS feed finally also displays the post's body text.
Edit: Added a link to the Internet setup help in the Wiki. I missed that there was such an article.
---
2 comments
Posted by SirVer on 2010-09-27, 10:30
As time runs by and the second part of WiHack 2010 is already in a near future, I would like to sum up, what we have done lately.
So on the feature and game play side, the most visible changes have been:
Players that are defeated will become spectators, so they at least have the fun to watch everything what's going on.
The building statistics of opposing players are no more visible.
Two new win conditions were added ("wood gnome" and "land lord").
Builders have now idle animations, if they wait for build material at their constructionsite .
A lot new animations for imperial workers.
A shared kingdom feature was implemented.
Basic multiplayer scenario support was added (but no multiplayer scenario yet ).
Further the compile script (before named "build_and_run.sh" now "compile.sh") was improved to ease compilations of widelands for the user.
And on bug fixing site, two popular (besides other) bugs were fixed:
the "[fetchfromflag] - building dissappeared" bug, which lead to a complete crash of Widelands
the scout program got fixed (although there might still be a problem somewhere, which leads to desyncs...)
So what are these new features, you might ask ;).
First of all, let me begin with the win conditions:
"Land lord" is a win condition, that is different to the standard win condition. The goal is not to defeat all players, but to own more than half of the maps' area and to keep it for at least 20 minutes.
"Wood gnome" is even more different ;). The goal is, to have as much trees as possible on your territory after four hours of playing. So on the one hand you need to get a big territory and of course have to defeat it, on the other hand, you need a lot of space for trees and so have not much space for other buildings.
The "shared kingdom" feature allows you, to share a kingdom with one ore more players - which means you play the same tribe and have the same possibilities to control it. To activate it, first set the same team as the player you would like to help out and than click on the tribe button until a text "Help playername" appears. That's it
Okay that's it for now. Hope I was able to give you a short insight into our developments :).
---
0 comments
Posted by Nasenbaer on 2010-09-23, 21:06
Update on the WiHack activities
Tournament
The resonance to the tournament announcement was positive from all sites. And I heard quite some people say they would participate. But so far, we only have four sign ups. Do not get me wrong, the tournament will also happen with only four players. But more players is more fun! So reconsider joining. The tournament is well suited for beginners. The fun of widelands is not the fun of winning, but the fun of playing.
Read the Wiki page and sign up with a Private Message to Kristin.
Wihack
The Wihack is confirmed and will take place from the
29th October (~ 9pm) - 1. November 2010 at the Entropia e.V.
If you drop by, add yourself to the Wiki-Page so that we know :).
---
0 comments
Posted by SirVer on 2010-09-14, 23:44
Let's play...
The WiHack 2010 Reloaded was just announced and I promised you a tournament. And so it shall be! Thanks goes to Kristin for the organisation of this event.
A quick run down:
Everyone (except for Kristin) can participate. However, for the brackets we need a number of players that is a power of two; so be quick with your sign up or you might be one of the few rounded off.
You do not have to come to the WiHack to participate, you can also join in over the internet.
Finals however will be played while the WiHack happens so we can watch the games life here in Karlsruhe.
Signup will only run for a week and a bit. So be quick or be out: Read the Wiki Page, then send a PM to Kristin.
The winner might get a T-Shirt.
I am very much looking forward to this. Note that competition is secondary to fun, but Kristin will look after Fairness as much as she can. And yes, I will participate as well.
Important Links:
---
0 comments
Posted by SirVer on 2010-09-09, 00:03
It's offical now!
The next WiHack will happen from the
29th October (late evening) - 1. November 2010 at the Entropia e.V.
We will play and program on widelands. Everybody is invited and as before, attendance is free!
Further information is available here; keep up to date:
It will be awesome and there will be a tournament too this time (this time for real, more information coming soon).
---
4 comments
Posted by SirVer on 2010-09-05, 23:45
Well... already 2 more month since my last development update... so let me give you a short look on the new stuff we implemented since than.
First of all: Chuck continued being creative and added a lot very great new animations. He is really doing a very good job there :).
And on game feature site:
We finally added a team play feature - teamed players can't attack each other and share the vision
Defeated players will now become spectators in some game types - so they can go on spectating after being defeated.
the basic opengl support was merged and improved at some places - if you feel like Widelands is too slow, you can now try the new opengl renderer
Players on Windows are finally able to host games via our internet lobby
The computer player was partly improved
The forester got some more intelligence - finally he understands, that it is not a good idea, to rip out other small trees and as well cares about affinities of the trees (so will place a tree that best fits the place)
A lot new translations were added.
The map autogeneration feature is now able to place starting positions and was slightly improved to produce better playable maps.
Players now get a message, if a new militarysite was occupied.
In multiplayer games, the hosting player got some new commands to control the game (just type /help in the chat box)
And as alwasy - last but not least: we again fixed some nasty bugs
So although some of us disappeared in the "summer hole" ;), we still got a bit bigger list of new stuff for you in the last 2 months :). Hope you like it :)!
For a list of all changes since build15, see the changelog. It should contain all major changes.
Let's look forward for a great Build16
---
6 comments
Posted by Nasenbaer on 2010-08-12, 22:26
A new elder of graphics
Development is rolling onwards, but the most advancements in the last few weeks were clearly on the graphics front: Chuckw finished all worker models for the atlanteans (after having finished all workers for the barbarians earlier) and is tackling the remaining tribe (the empire) charging forward in our struggle to remove concepts graphics from the game. I have seen Chuck learning all the gory concepts of blender, bzr, launchpad and widelands internals in a continuing strive to make things better in this last year and his persistence and dedication made me realize, that he is the one that can finally relieve Alexia Death from her elder duties.
So let it be heard: Alexia Death, our longest serving and historically most important elder (as she more or less got the graphics ball rolling for widelands) resigns. Actually she wanted to for a very, very long time as she is extremely busy and she only kept the job because no one was qualified to do it (oh yeah, and because I begged her to
). Alexia will stick around, but this is the definite time to say a huge thank you to her in the name of the team and the community for all she did so far for widelands! You so rock, Alexia.
Thanks go also to Chuck for taking over. As the new elder of graphics, he is the one you need to be talking to if you are unhappy with anything visually in widelands or want to contribute graphics in any kind of way. He will also monitor the graphics forum which is the one place to discuss graphic development. Also, he will be administrating the widelands-media project on launchpad. Chuck, welcome to the next level and thanks for taking over.
Here are his welcoming words to the community:
Graphics play a huge role in virtually every computer application nowadays, especially games, and Widelands is certainly no exception. A visually rich and entertaining environment has been under development for Widelands since its inception and there is much to show for the efforts made thus far, but as Widelands evolves there is still much that remains to be done.

I would like to add my personal thanks to Alexia, not only for all of the work she has done, but also for her tremendous help and encouragement in getting me on my feet with the project. (Believe me that was no small task. ) Alexia, you have made a great example to follow.

As your new Elder of Graphics, I'll be here to coordinate graphics development for Widelands and work with you. I'll serve as a contact point for requests and questions, and to receive any suggestions and finished works you may offer to contribute to the Widelands project.

I look forward to working (and playing) with you and want to see any samples or graphic contributions YOU may have to offer or point you to where we can use your help.

Together, let's make Widelands as graphically entertaining to the eye as it is to play.

Cheers!
Chuck Wilder (chuckw)
---
2 comments
Posted by SirVer on 2010-08-03, 17:59
Okay, quite some time since the last news post - and that's definitely not because nothing happend - no! WIdelands development is actually quite active at the moment :)!
So where to start?
Well I think I will not describe all new features and changes that exact as I did the last time - simply because it's too much and I am too lazy
So let us start with some screenshots of new features:
Chuck is very actively working on the tribes's workers animations - so far the barbarians are already finished (yes you did not missunderstand - all workers do have their animations now!
And the atlantean animations are already quite far as well :).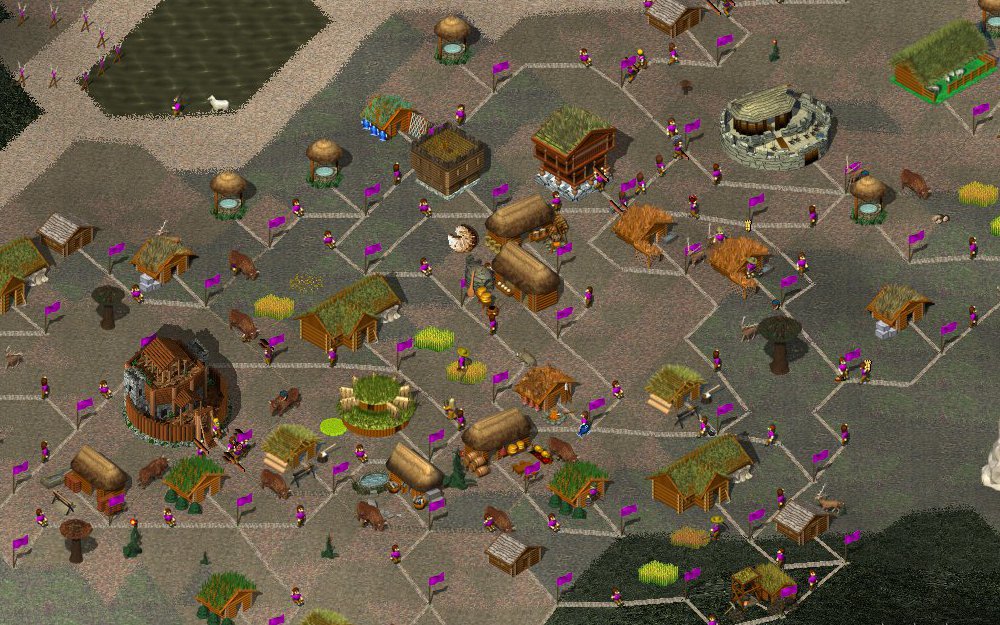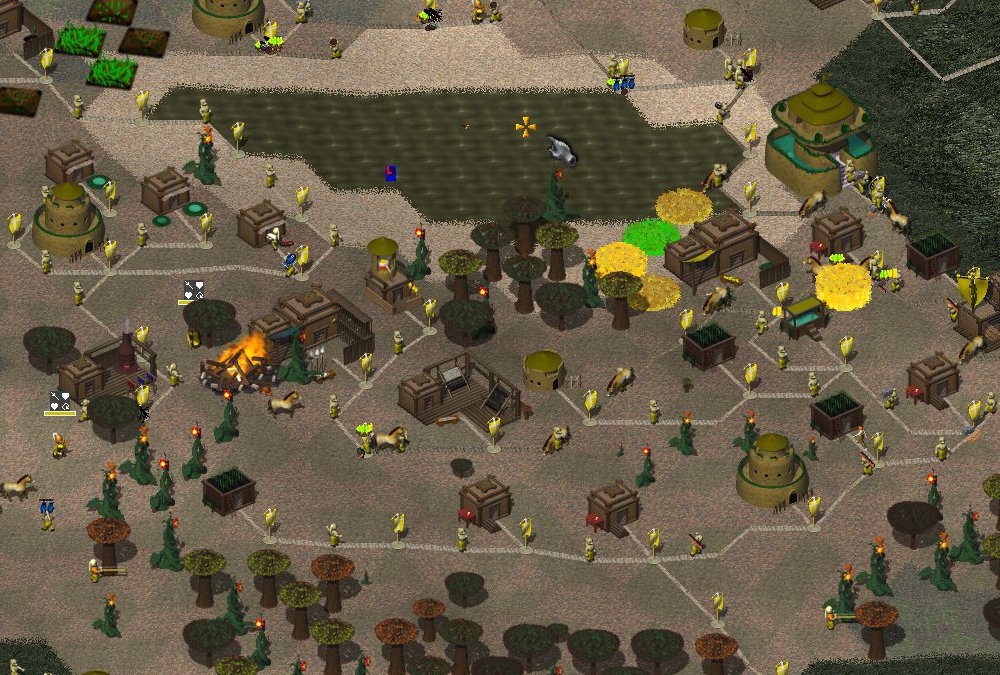 Further some new features were implemented, like the "second view mode of stock" - you can now see all available materials in your economy as well as all material that is stored at the moment, if you select the "stock" from statistics menu.
Another feature allows you to set, whether a ware should be prefered for storage in a warehouse or whether storing of that ware should be stopped or even be outsourced - just click on the ware in a warehouse or headquarters to set it's preference.
And not to forget the new user interface in military sites
...
Ahh and while we are at it - the symbols for soldiers and their health bar were reworked, to have a more unique and understandable mark for soldier levels.
Some more things were added or changed, that are not that easy to show in an image:
The existing campaigns were modified to use lua as engine, this leads to a much more smoother and more intelligent campaign behaviour
A " I will show you how to play Widelands" tutorial was added.
New music was added :)!
It is now possible to set a condition for when a game is won.
Besides the new features in our current development trunk, some work was done in seperate branches, like opengl implementation, the first atlantean campaign map, work on metaserver client information transport and some more interesting construction sites.
I created a small preview to give you some visualisation how the campaign might look like
. Take a look here for that video.
... and as always: a lot of bugfixes and code improvements ...
Well I surely forget the half or even more...
---
5 comments
Posted by Nasenbaer on 2010-06-03, 19:53